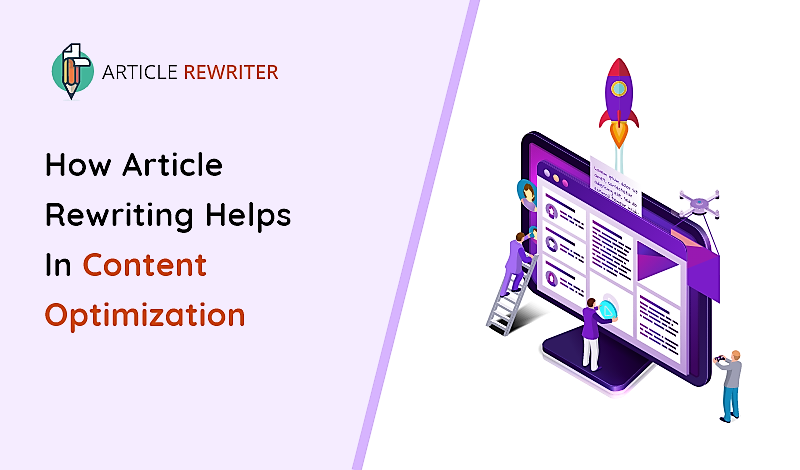 How Article Rewriting Helps in Content Optimization
Content marketing is very popular nowadays. This can be easily gauged from the fact that 93% of all B2B marketers use it for their marketing needs. Article rewriting helps in content optimization by improving the quality of the Content.
It also improves the ranking of the website. Content marketing basically involves the usage of content for the purpose of promoting a brand. This is usually done in the form of blogs, emails, whitepapers, and so on.
However, before any sort of content can be used online, it has to be properly polished and optimized. There are a lot of different things that have to be done in this phase.
For example, all the grammatical and spelling errors in the content have to be detected and removed. Similarly, the content also has to be checked for plagiarism in order to make sure that it is unique.
And unlike what a lot of people may think, article rewriter plays a big role in content optimization. There are a couple of different functions that it serves to perform, all of which can be highly useful for increasing the quality of the content.
If you don't know about those, don't worry. In this post, we are going to be looking at how exactly article rewriting helps in content optimization.
What is Article Rewriting?
Before we get into our main topic, let's understand what article rewriting actually is.
Article rewriting can be defined as the process in which a piece of content (which is typically an 'article') is rewritten using different words and phrases, but with the same meaning and context.
Here is what article rewriting looks like in action:

There are different methods by which article rewriting can be done. It can either be done manually, or it can be done with the help of a tool.
Both methods have their own pros and cons. But, nowadays, it is recommended to use a tool if you can manage to find one with intelligent working. Although there is some fine technical difference, the main work of an article rewriter is pretty much the same as that of a paraphraser.
Now that we've looked at what article rewriting is, let's move on to look at how it can be useful in content optimization.
How does Article Rewriting help in Content Optimization?
1. Remove Duplicate Content
The first thing that article rewriting can help with within the content optimization phase is removing duplicate content.
Duplicated content, or plagiarized content, is a problem that writers have to constantly deal with. This applies to a greater degree to content writers who have to write blog posts and articles about popular topics on a daily basis.
That is pretty much why you have to check your content for duplication using a plagiarism checker.
However, while plagiarism checkers can spot and point out the duplication in the content, they don't actually do anything to remove it. And that is basically where article rewriting comes in.
If you happen to find some plagiarized text in your content, you can take that particular bit and rewrite it. You can do this yourself, or you can do it using a dedicated tool.
After you rewrite the text using different words and phrases, it will not be recognized as plagiarism anymore. Let's look at an example to understand this a bit better.
In the screenshot below, you can see that we've used a plagiarism checking tool on a certain piece of content and it is showing up as duplicated:

But, when we rewrite the same content using an article rewriting tool, it does not get recognized as plagiarism anymore:

2. Increase Readability
Readability is an important factor that you have to consider if you are writing for SEO. When your content is readable, your readers are comfortable reading it, and they understand the message that you are trying to get across.
Once they are comfortable with your content, they will also be inclined to share it with others.
If you ever happen to find that your content is too difficult to understand, you can try running it through an article rewriter to make it more readable. This is not actually a fixed sort of rule i.e., that you will get easier content by using an article rewriter. But, it's something that you can give a try.
Let's look at an example again to understand this.
Original Text: The intricacy of the puzzle induced the man to shriek in hysterics. When an attempt was made to placate him, he started guzzling his soup until he asphyxiated.
Output Given by an Article Rewriter: The complexity of the puzzle caused the man to scream in frenzy. When an attempt was made to appease him, he began to swallow his soup until he suffocated.
As you can see in the above example, most of the difficult words in the original content were replaced by somewhat easier synonyms. The word 'intricacy' was changed with 'complexity' and the word 'guzzle' was changed with 'swallow'. The word 'asphyxiated' was changed to 'suffocated'.
All of the synonyms that were used to replace the original words make perfect sense, and they are also easier to understand.
How to Efficiently Do Article Rewriting for Content Optimization?
There are basically two ways of article rewriting. It can either be done with the help of an online tool, or it can be done manually.
Using an Online Tool for Article Rewriting
As far as using online tools for article rewriting is concerned, you just have to be careful that you pick the right one for the job.
There are a lot of article rewriting tools available online. Some of them work on advanced AI algorithms and have an intelligent working, while some of them have more basic functionality.
Tools that don't utilize AI are not capable of understanding the context of the entered text, and they can make contextual mistakes. On the other hand, tools that do incorporate AI in their working work a lot more smartly.
In a nutshell, here are some things that you can check to see in an article rewriting tool to see if it is worth using or not:
Freedom of usage (available for free etc.)
Multiple mode availability
AI-driven functionality

Manually Doing Article Rewriting
Rewriting articles manually can be more time-taking than using a tool, but the results can be more thorough and coherent.
When using a tool, there is always the danger of getting some sort of contextual error in the output, even if the tool happens to run on AI. After all, it is just software.
So, coming back to the point, if you want to do the rewriting manually, here are some things that you should keep in mind:
You should use relevant synonyms in place of the original words i.e., synonyms that match the context.
You should take care to change the phrases as well, where possible.
Change active voice to passive, and passive to active.
Change sentence structure.
Making these sorts of changes in the text will help you completely alter its look.
Conclusion
In summation, there are two main ways in which article rewriting can help in content optimization. It can help in removing plagiarized bits from a piece of content, thereby making it unique.
And the other way in which it can help in content optimization is by making the content more readable and comprehendible for the audience.