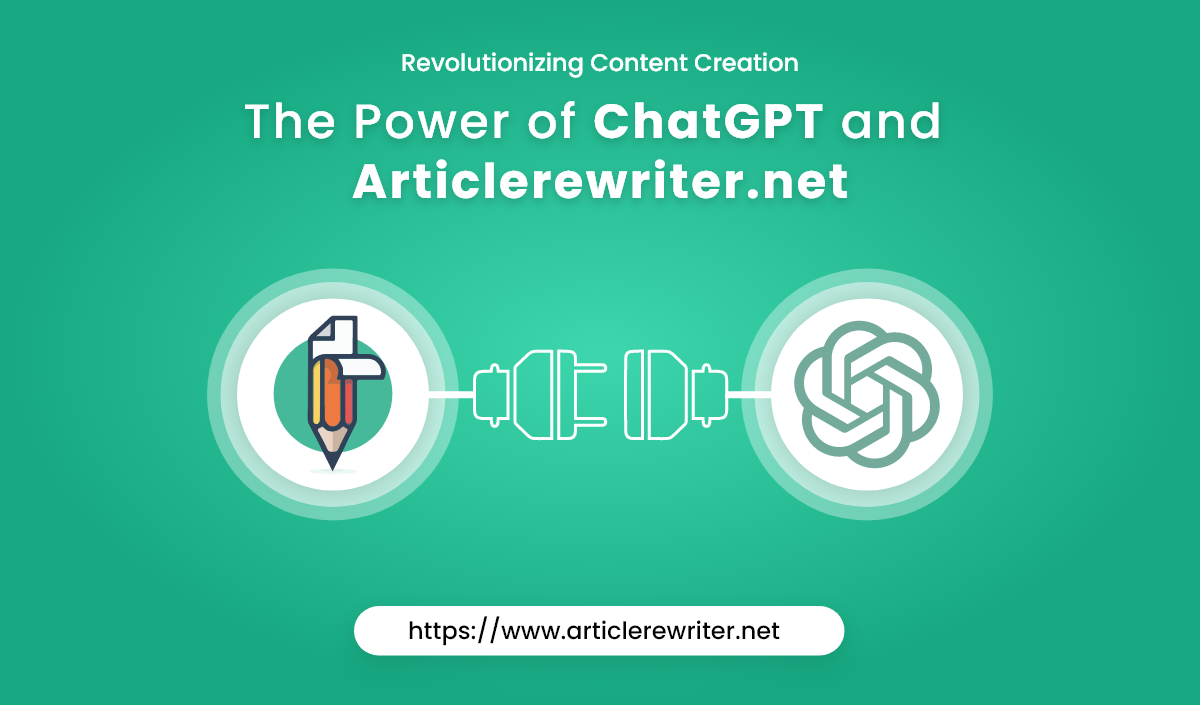 Revolutionizing Content Creation: The Power of ChatGPT and Articlerewriter.net
The role of AI in content creation is increasing every day. Some experts seem to think that it's imminent that AI will replace manual labor and help writers or content creators even more than now. That's why around 49% of marketing experts say AI is their go-to solution for creating clear-cut and readable content.
But that's when you think about a popular tool called ChatGPT. It was released in November of 2022, but it saw around 266 million visitors in December 2022 alone. That should tell you about the tool's prowess, capability, and people's interest in it.
Now, speaking of AI tools, there are many great rewriting and paraphrasing tools. One such tool is Articlerwriter.net, which is an online toolkit for content creation. Today, we are looking at how you can blend these two programs together and revolutionize your content creation process. So, let's get started.
Deep Dive into ChatGPT
ChatGPT is an online chatbot fused with the latest artificial intelligence algorithms—to put it simply. It's based on the Generative Pre-Trained Transformer AI model 3 (GPT-3), hence its name. Nowadays, it also offers a GPT-4 variant, but that one is paid.
Now, ChatGPT works like any simple chatbot. You enter a question or ask it something, and it'll answer. However, the detail and intricacies that it provides are almost human-like. Since it's made on the most advanced GPT level, it is able to comprehend messages that chatbots before it wasn't capable of.
Its trained GPT-3 model takes up all of the data from the pre-2021 internet. Therefore, there are times when it won't show specific dates or data that might have come into existence after 2021. However, the GPT-4 model has already transformed that.
Now, how has ChatGPT impacted content creation? It's better just to show you an example. Let's say you wish to create a social media caption manually; here's what you'd do:
Search on Google about the subject;
Gather information or citation;
And write something based on the image/video that you're about to post.
If you're an expert, that might take you an hour to do that and produce a 50-100 word caption. Here's how ChatGPT does it: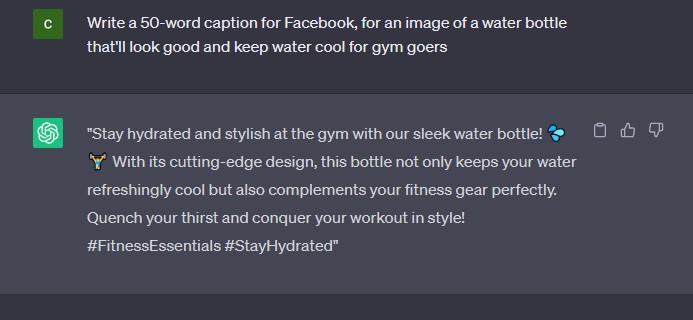 Now, how long did it take ChatGPT to do that? Basically less than 2 minutes. That's how it has helped many content creators simplify their content-creation process. However, it has a lot of issues, but we'll talk about that later.
Introduction to ArticleRewriter.net
Articlerewriter.net is an online toolkit for writers that offers many different tools. As the name suggests, the program itself is a rewriter that lets you rewrite content in three main content modes. These content modes are Word Changer, Sentence Changer, and Plagiarism Remover.
All of these content modes can be used in different elements of content creation. However, Articlerewriter.net isn't just a basic rewriting tool. It's an online toolkit that offers a few other tools as well, such as:
Article Rewriter;
Paraphrasing Tool;
Plagiarism Checker;
Grammar Checker/Corrector;
And Text Summarizer.
As you can see, the tools are targeted toward smooth and quick content creation. Therefore, writers can easily rewrite or paraphrase their content. OR they can choose to scan their text for plagiarism and remove it with the help of the aforementioned rewriter or paraphraser.
Writers can also try the grammar checker to avoid any spelling or punctuation issues. While they can use the text summarizer to summarize their text or create short/brief descriptions of their content.
Revolutionizing Content Creation with ChatGPT and Articlerewriter.net
Now let's analyze how you can revolutionize the content creation process with ChatGPT and Articlerewriter.net.
Creating Content with ChatGPT
The use of ChatGPT varies for content creators. Some use it to write scripts, and others use it to write entire blogs. While some only use it for suggestions and research. Now, it all comes down to your preference. But that's a major drawback of using AI in content creation sometimes.
But before we talk about that, let's see the two main things people use ChatGPT for:
· Research
Research is one of the key ingredients in any successful content creation process. That's why a lot of writers and content creators have their own way of bending Google searches for their information and gathering research.
That's when ChatGPT takes out the hassle part and makes research easy. Here's an example of ChatGPT describing predictive analysis in 100 words or less: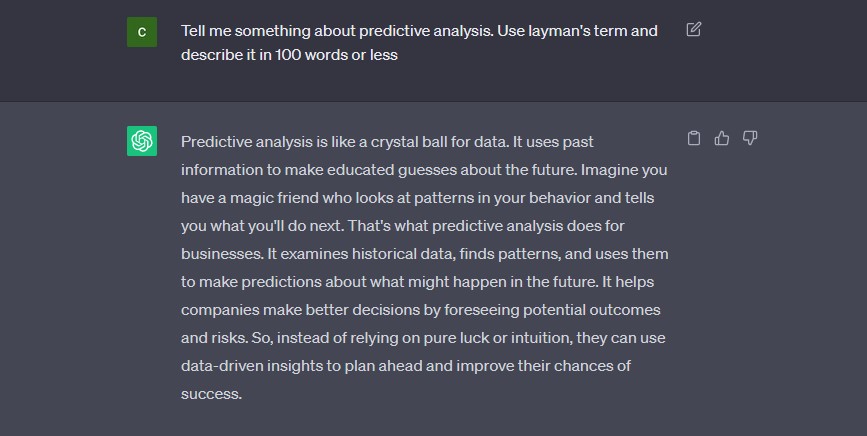 Now you can see here that AI has described it exactly as I asked it. It's 100 words or less, and it's in a pretty readable and simplified language. That means anyone can understand complex subjects and begin content creation on them.
This sort of research has already revolutionized content creation, and this is all thanks to the GPT-3 model that ChatGPT employs. It understands exactly what your prompt needs and helps you create content like that.
· AI-Generated Content
AI-Generated Content isn't exactly acceptable in many content creation firms or content mills. However, it's one of the key benefits of using ChatGPT that it lets you create content exactly the way you like it. Let's say you wish to create a product description then it can help you with that like this: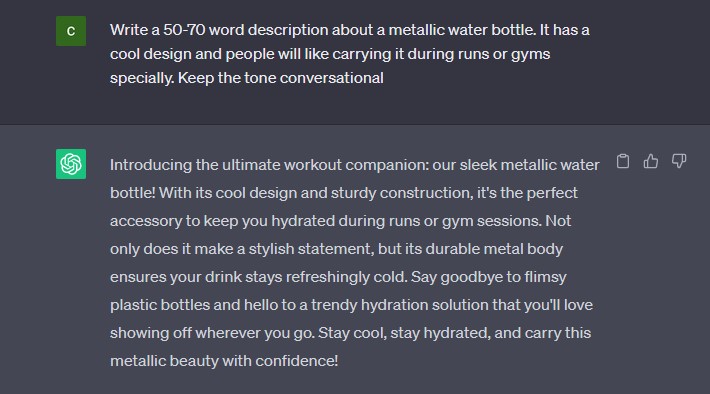 This prompt took ChatGPT less than 10 seconds to create. Now can you imagine if you tried something longer? Let's say you wish to write an introduction to your blog post; then, can it help you with that? It sure can: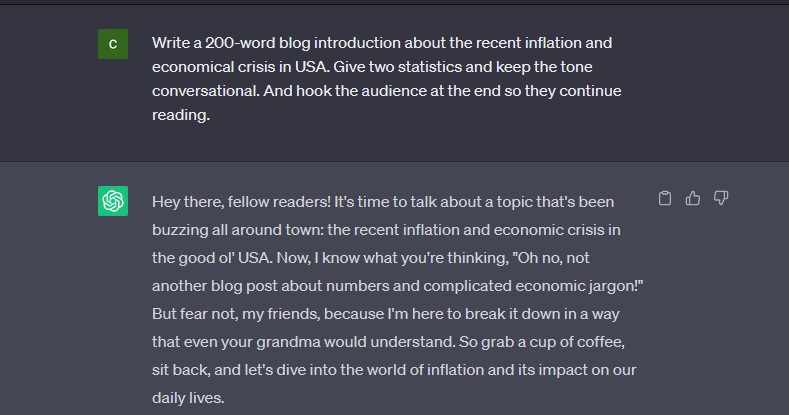 As you can notice, this prevents writers from having to work harder. But is this all acceptable? Let's keep digging to see how you can actually revolutionize your writing process with ChatGPT.
Improving AI-Generated Content with Articlerewriter.net
Now AI generates content, and that's what it's made to do. But that doesn't mean the content that it creates is flawless. In fact, many would say the content that ChatGPT creates is easily recognizable as made by AI.
Not because it has issues or errors but because it doesn't have any human-like element in it. It's like hearing a robot talk sometimes. So, can you fix that? You sure can, and here are three ways you can employ Articlerewriter.net to do that.
· Rewriting the AI Content For Better Quality And Clarity
Now the first thing you can do is get better clarity out of ChatGPT content with the help of Article Rewriter. As we mentioned earlier, this online text rewriting tool has a few content modes, and one of them happens to be a sentence changer.
Here's what happens when you use ChatGPT content with the sentence changer mode: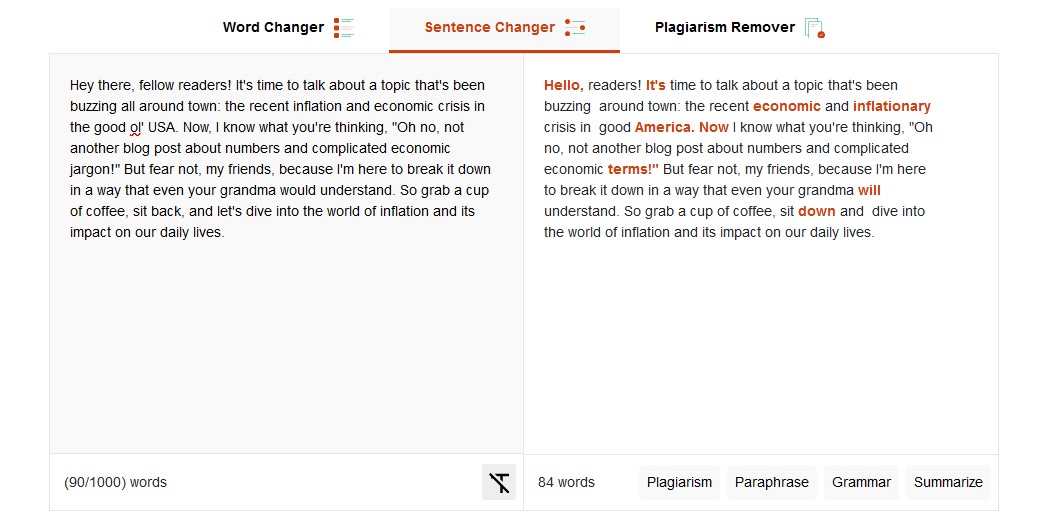 As you can notice here, the content hasn't changed a lot. However, it has improved the content flow and fluency by making small changes. Now, let's say you wish to make it a bit more unique, then you can try the word changer mode: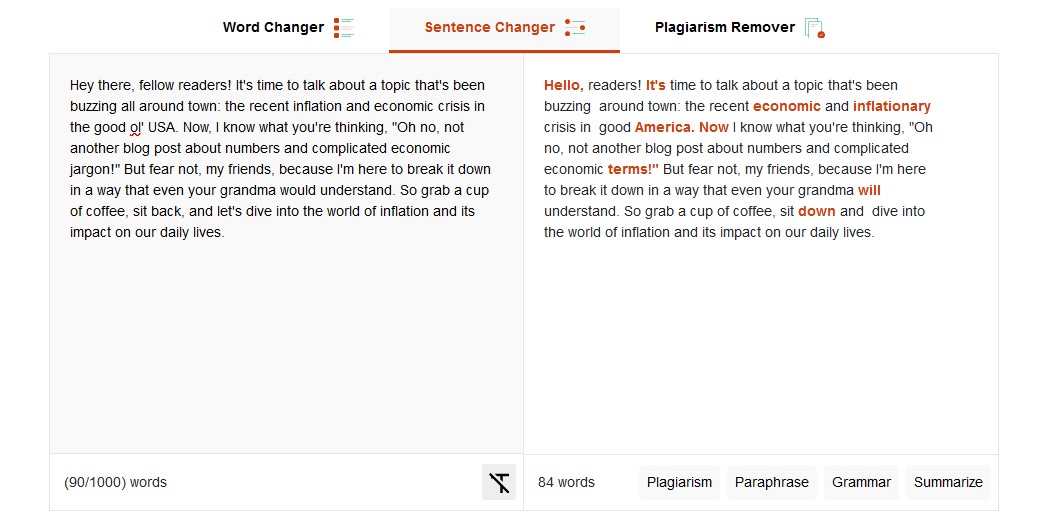 Once again, Articlerewriter.net notices minor blemishes and issues with ChatGPT-generated content and changes it ever-so-slightly. Thus, making it a bit clearer and easier to understand.
· Rewriting Text For Content Simplification
Speaking of easier-to-read or understand text, Articlerewriter.net has another tool that can help you with that. It has an outstanding paraphrasing tool that can help you with simplifying ChatGPT-generated text. Let's say that you generate this with ChatGPT: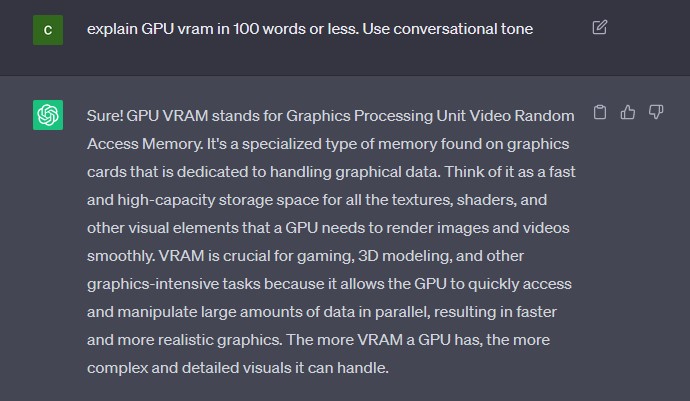 Then Articlerewriter.net's paraphrasing tool can help you like this: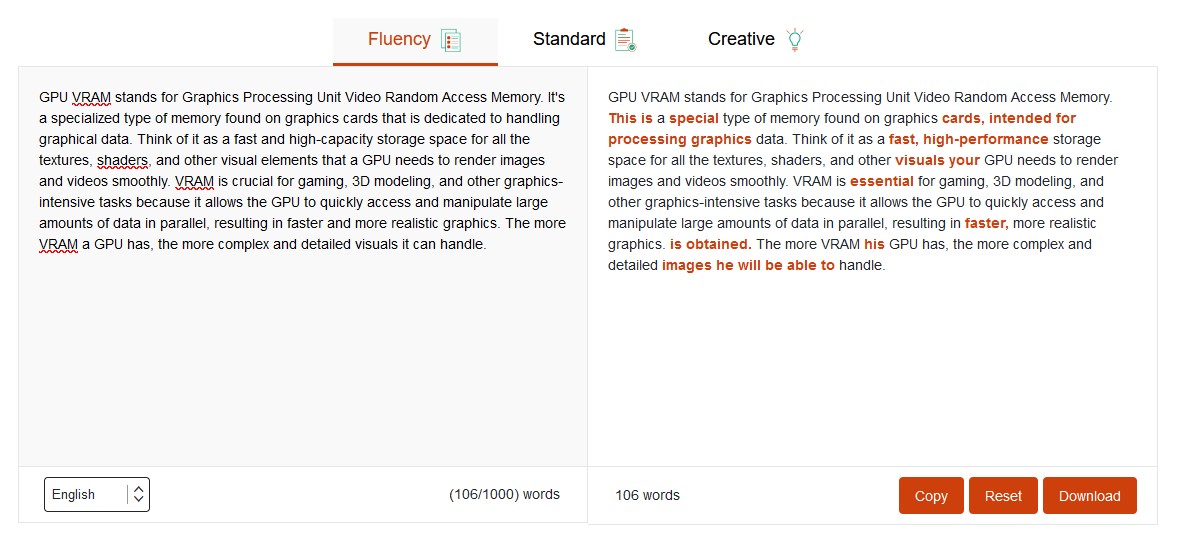 As you can see here that the text has improved in terms of readability and fluency. Instead of using difficult terms, it simplifies a lot of things by replacing them. And where necessary, it has also shifted the content tone a little bit.
Now, it's important to understand that the paraphrasing tool also offers three content modes. But you should only use the other two if you are trying to make your text a bit more creative. Or if you are trying to leave the content tone as it is and make changes only for slight improvements.
These are very handy paraphrasing features, and they prove that you can use Articlerewriter.net's paraphraser for simplification.
· Ensure Error-Free Content
The last thing you can do is ensure your content is error-free. Now, there aren't any errors from the content that we have checked so far. However, AI can make some mistakes regarding punctuation and spelling. To ensure that doesn't happen, you can use Articlerewriter.net's grammar checker like this:

As you can see, there aren't any errors in this particular text except for the penultimate sentence of the paragraph. And if there are no errors, then it will show you just that:

As you can see here, there are no issues with the content, and that's why the grammar checker is showing it as error-free. This isn't necessary, but doing this will give you a lot of confidence in your content and allow you to post it without any errors.
But when you rephrase it manually or change ChatGPT-generated content to meet your requirement, it's better that you use the grammar checker by Articlerewriter.net to avoid any issues with your text.
Conclusion
These are some of the key features of both ChatGPT and Articlerewriter.net and how they go hand-in-hand in today's content creation. It comes down to your usage and how you plan on employing them for your content creation. But, following the methods shown in this article, you can surely create content quickly and achieve higher quality.