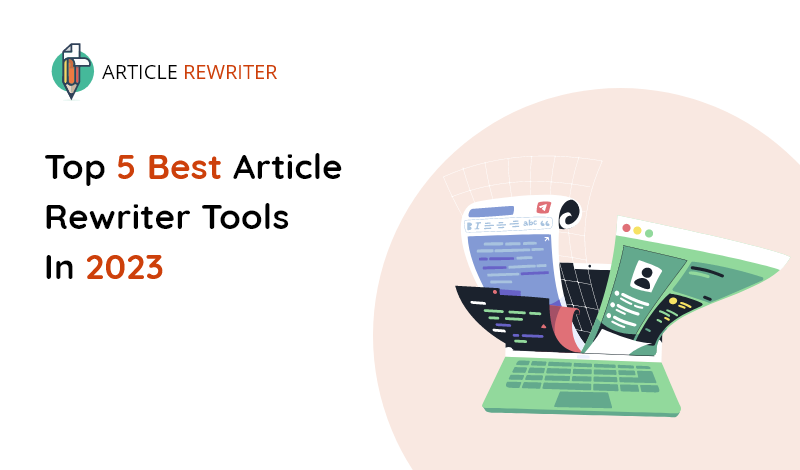 Top 5 Best Article Rewriter Tools in 2023
In 2023, content writers are in high demand as more and more companies are expanding their online presence. This has naturally resulted in a huge deficit between content supply and demand.
There is not enough content supply because there are not enough writers. This puts a severe workload on the existing writers. However, they can alleviate some of that load using article rewriting tools.
Article rewriter tools can take an entire article as input and then change the words, phrases, and sentences in it to make it look like a new article. The meaning of the changed parts remains the same as the original.
While they may be called as article rewriters, but they are by no means limited to just articles. You can use them to rewrite even small sections or paragraphs of your text as well.
In this article, we will look at five article rewriters that you can use in 2023.
5 Best Article Rewriter Tools in 2023
Articlerewriter.net is an online rewriting tool that comes with five modes. Each mode rewrites in a different manner and you can use the mode that suits your needs best.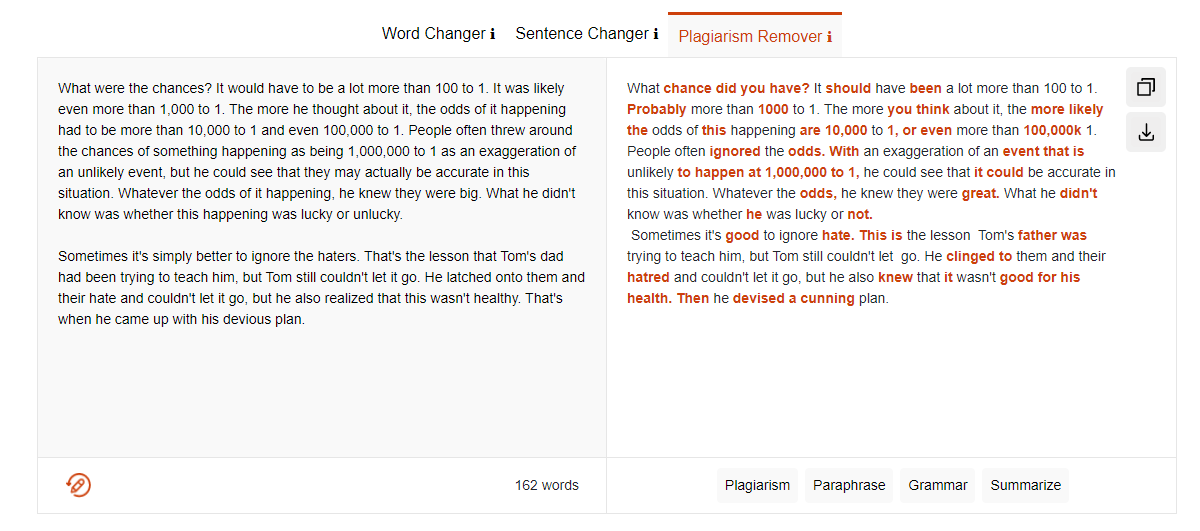 The three modes on offer are:
Word Changer
Sentence Changer
Plagiarism Remover
AI Rewriter
Paragraph Rewriter
The Word Changer mode replaces words from the original text with synonyms, phrases, or complete sentences.
The Sentence Changer mode replaces phrases from the original text with either words, phrases, or sentences.
The Plagiarism Remover mode remove plagiarism and changes anything it can to make the content unique and free from duplication.
The AI Rewriter mode rewrites and restructures text, maintaining original meaning while providing a fresh presentation.
The Paragraph Rewriter mode Reformulates entire paragraphs for content variety and uniqueness while keeping the original context intact.
Articlerewriter.net is a free tool available online. It can be used without creating an account. This makes the tool accessible to everyone.
There are some good features of this tool that make it a prime choice for people who need to spin some articles. The features are as follows:
Upload files from device storage.
Type/paste content in the input box.
Download the rewritten text as a file.
Copy the output with a single click.
No word limit on the tool, rewrite long documents with ease.
There are only two downsides of this tool, but those are present in all free tools. There are non-intrusive ads on the webpage and every time you want to use the tool you have to complete a captcha.
Overall, this is a great article rewriter that can be used in 2023.
2. Seotoolstation.com
Seotoolstation.com provides a great article rewriter for free. This tool can rewrite any text that you provide within only a few seconds.
Unlike Articlerewriter.net, there are not any modes of rewriting. However, the output you can get is pretty decent.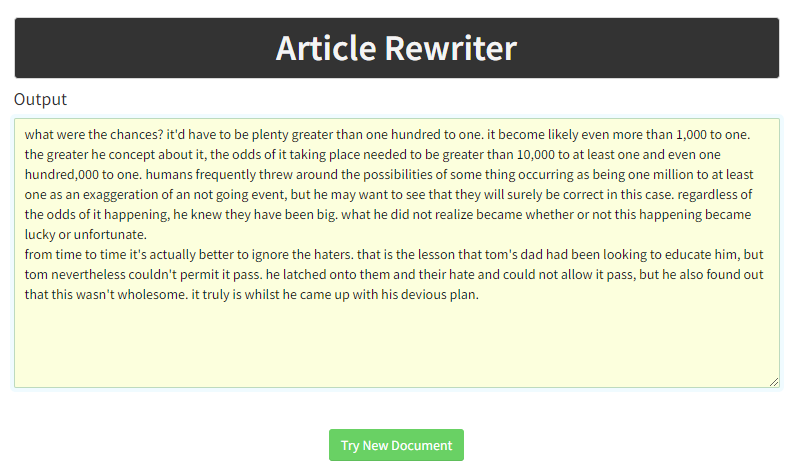 The tool takes care to change not only words but also phrases so that the end product is quite different from the input. It even changes some things from passive voice to active and vice versa.
This tool does not support any file uploading, the only way to input is to either type the text in the input box or paste it.
Once the input is done, you just need to press the green button and after a few seconds, the output will be shown.
Just as you cannot upload anything, you cannot download anything either. The only way to save the output is to copy it and save it as a file on your device.
There are a few downsides to this tool that may hamper some users. They are as follows:
Input and output are not shown side by side, so it's difficult to compare them.
The output has no style changes such as highlights, bold text, or underlined text to show what has been changed.
The upsides are as follows:
No ads
Unlimited words
No captcha
Seotoolstation.com comes with a few caveats but those to whom it does not matter as much can still use this tool effectively.
3. Smallseotoolz.net
Smallseotoolz.net article rewriter is a free tool that can be used without creating an account. It is quite similar in functionality to the Seotoolstation.com article rewriter.
It does not provide multiple paraphrasing modes, so you are unable to choose to replace only words or only phrases.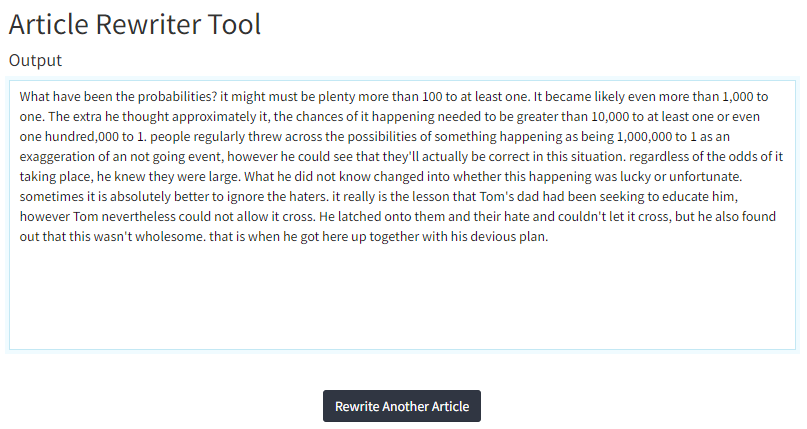 This article rewriter works by letting you type in a text box, or paste your content in it. Once that is done, pressing the "Submit" button will begin the processing of the text.
The output will be shown in the same textbox as the input, so you will be unable to compare the original and rewritten text.
The rewriting itself is pretty good as there are several changes made to the original text. Not only words but phrases and even sentences are changed as well. Thus, people who need to rewrite articles can definitely find a lot of use for this tool.
Some of its good features are as follows:
However, there are some obvious downsides which have been explained below.
The output does not employ any styling options such as bold, coloured, highlighted, or underlined text to make it easier to notice what has been changed.
This makes it difficult to see what has been changed or not since you cannot compare the input and output.
This makes it a bit difficult to use effectively. But it is still a good tool.
4.Turboseotools.com
Turboseotools.com article rewriter is another free tool and it also does not require you to register before using it.
This tool is used in the same way as all the other tools in this list. All you need to do is to paste your article into the text box. You can type it in there as well but that's not recommended as there are no text editing tools available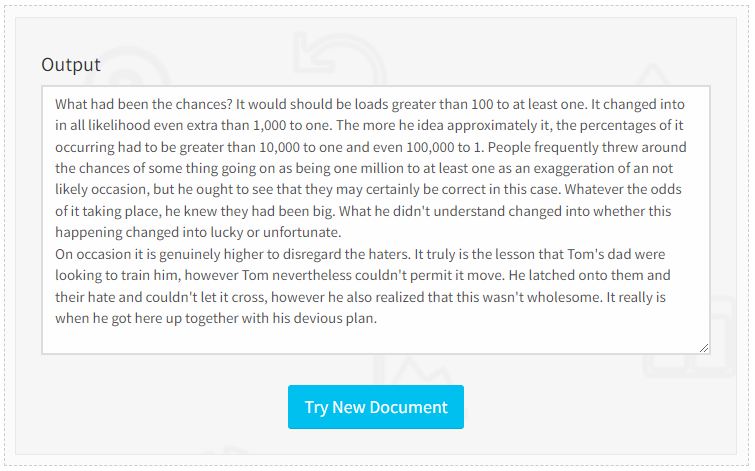 Once you have pasted the article inside, you just need to click the "Rewrite Article" button and the tool will start doing its job.
And it does a good job as well. The final product of the rewriting is very different from the original text. The tool does a thorough job by making sure that it replaces words, phrases, and sentences with synonymous ones.
It is also good that the tool does not have any advertisements, nor does it have any word limits. So, you can rewrite articles of any length, be they long or short.
However, there are still a few disadvantages to this tool. They are as follows:
No comparison between input and output is possible.
The output does not show what has been changed/rewritten.
5. Aiseo.ai
Aiseo.ai article rewriter has many things to offer. It uses one of the strongest artificial intelligence languages model called GPT-3.
There are many modes of paraphrasing available, however, only two of them are free. Let us see how these two modes work. They are called "Factual" and "Standard"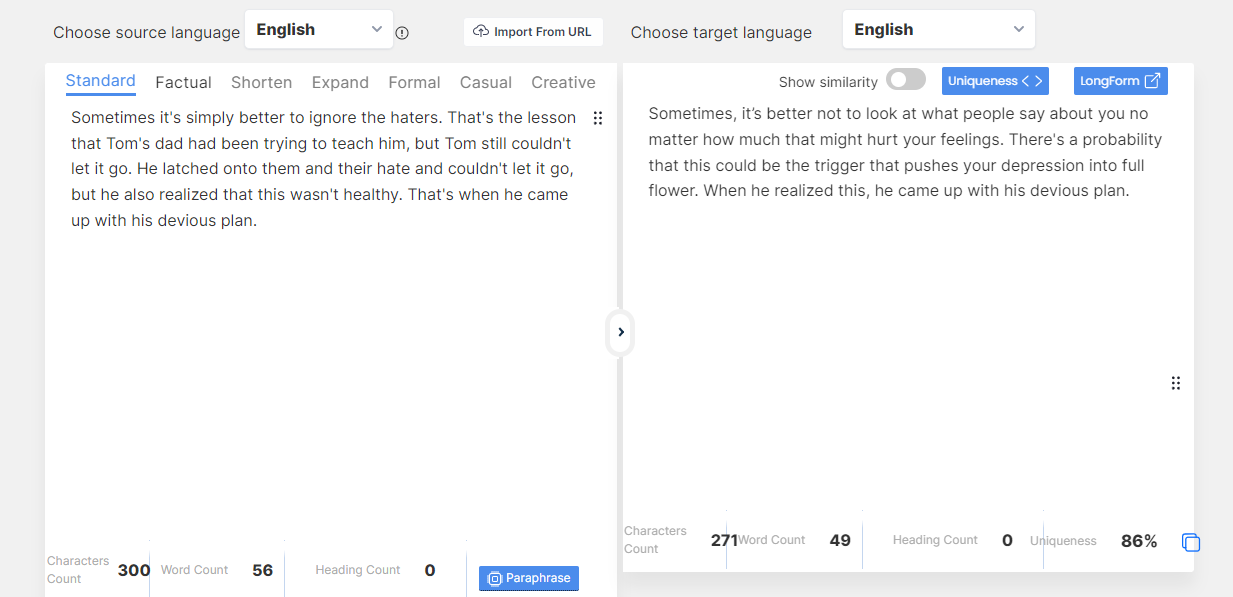 Standard just does regular rewriting that involves changing words and difficult phrases.
Factual mode tries to make the tone of the output as if it was stating facts. To achieve the effect, it changes plenty of things in the text. It replaces words, phrases, and sentences and even adds new stuff on its own to make the content unique.
There are other modes available, but they all require you to pay before access is granted.
The tool is free to start and does not require you to register. However, to gain access to its advanced features you need to create an account and pay for the premium features.
Then you can even paraphrase in 26 languages as well as translate between them. You can choose English as the input language and any other language as the target, the tool will automatically translate and rewrite your text in that language.
The only downside of this tool is that it tries too hard to make your content look unique, so it starts adding in things that do not exist in the original text. This can sometimes work out very well and other times it makes things worse. So, use this tool with some care.
Conclusion
These were five of the best article rewriters that are available in 2023. All of these tools were free to use and didn't require registration.
Some of them had premium features that could be accessed after paying for them. People who feel the need to use the premium features can choose to upgrade, while the rest can just use the free version.
All tools had no word limits, which is a welcome benefit, especially in a free tool. Writers who need to create multiple articles on similar topics can use these tools to create numerous unique copies of the same article.