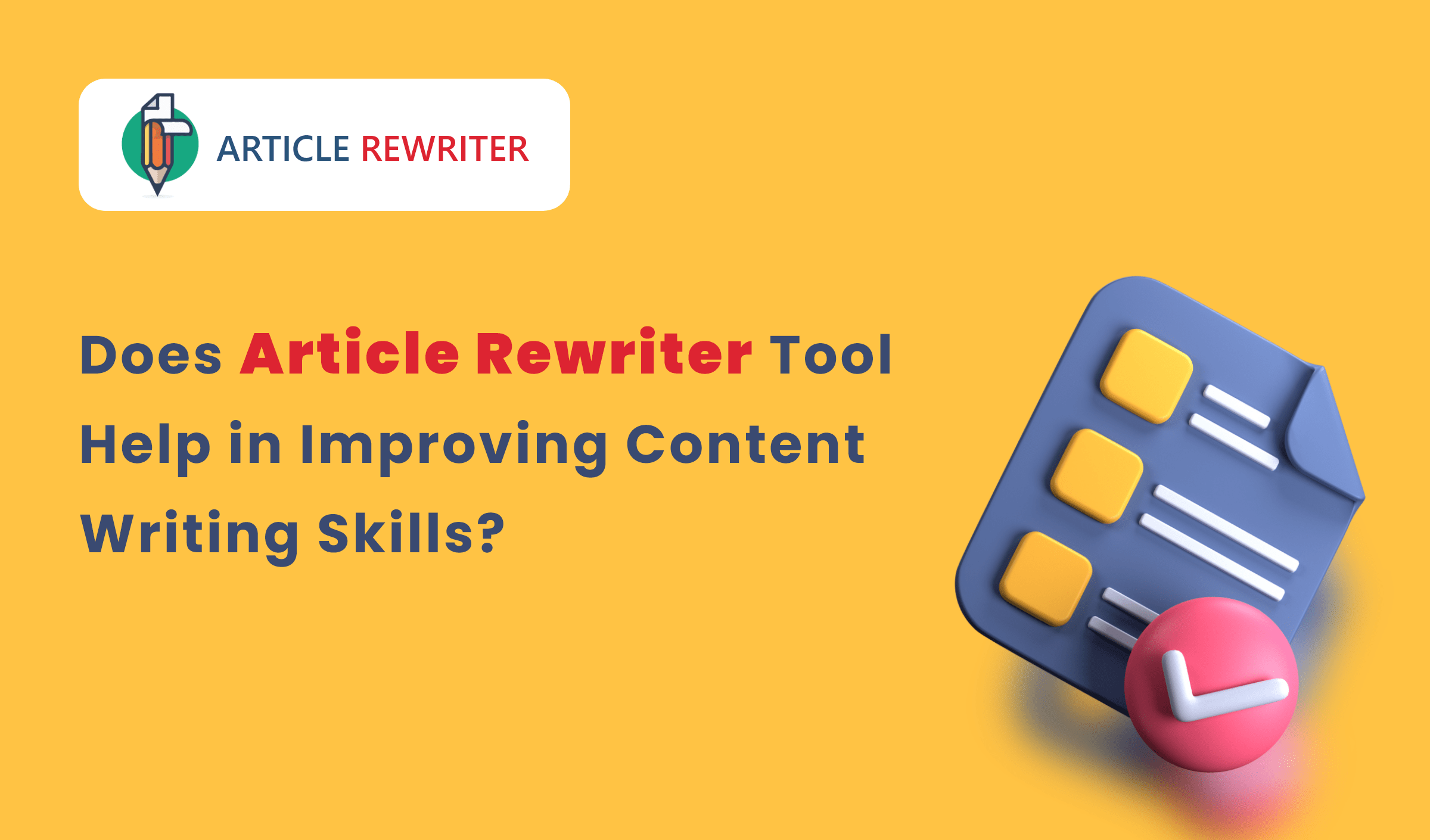 Does Article Rewriter Tool Help in Improving Content Writing Skills?
With the rapid advancement in technology, online rewriting tools are used by many content writers around the globe.
Rewriting is part of every content writer's job and manually rewriting content is time-consuming and frustrating therefore, writers prefer using an online article rewriter.
But, how exactly does the article rewriter aid to improve content writing skills?
We will discuss the answer to this question in this post. So, if you are a beginner in the content writing field and thinking about using an online rewriting tool then this article will be of great help to you.
So, let's jump to our main discussion!
What is an Article Rewriter?
An article rewriter refers to an online tool that is developed on three cutting-edge technologies; Artificial Intelligence, Natural Language Processing, and Machine Learning.
An article rewriter can be used for many purposes:
For simplifying complex content.
Helping writers with writer's block.
Generating plagiarism-free content.
Automating the entire paraphrasing process.
And a lot more.
Ways: An Article Rewriter Helps in Improving Content Writing Skills
It is for sure that an article rewriter helps writers improve their content writing skills because humans understand better with practical examples and demonstrations and this is what a rewriter tool does.
The tool takes input text from the users and rewrites it into an incredible piece of text, the strategies used by an online rewriter tool can help you improve your content writing skills.
If you focus on how the tool rewrites text, you can learn many great ways to enhance your content writing skills.
Let's discuss some ways in which this tool helps you improve your writings skills:
1. Improve the length of paragraphs
When a user enters any source text into a rewriter tool, the tool rewrites the source text by improving its length.
If the content you entered into the tool has lengthy paragraphs then the tool will shorten those paragraphs by rewriting them in a very elegant manner.
Readers do not droll over lengthy and boring paragraphs that are just on and on but, they like to read content with short and concise paragraphs.
Being a writer, not all of us have the credibility over rewriting concise paragraphs with the exact amount of information needed, but rewriter tools do have this credibility.
The tool does this by summarizing paragraphs of the source text into more readable, clear, and concise text.
Though, the tool takes care of all the necessary information, so you don't worry about losing any information in the final rewritten version.
So, if you compare the source text with the rewritten text by the tool and observe how it improves the length of the paragraphs, you can actually learn to do that manually which is an important skill for content writers.
2. Improves the sentence flow
For better content delivery, sentence flow is a crucial factor. If the sentences are poor in delivery, this means your content is not engaging.
Writing catchy sentences is what makes a person a good content writer and if you do not have this skill, you need to learn to improve your sentence flow.
A rewriter tool can help with this, the tool rewrites a sentence in a manner in which they appear connected with each other and form a logical flow.
In writing, sentences ending in prepositions are not considered great and not all writers have a grip on rewriting sentences ending in a preposition but, the tool can help.
The tool uses adverbs, infinitives, gerunds, and subordinate clauses to rewrite such sentences. So, if you close focus on how an online rewriting tool improves the sentence flow for better delivery, this could be a great skill for your content writing career.
Let's look at a demonstration of how the tool improves sentence flow by rewriting: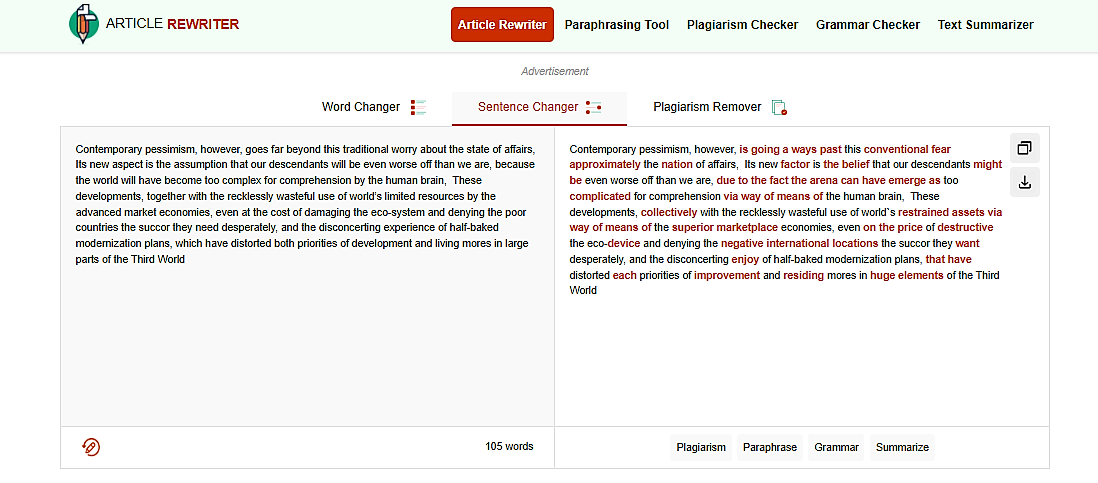 3. An opportunity to enhance your vocabulary
A good vocabulary is very important in content writing because it all depends on the words you use to write any content.
If your vocabulary is not good, you might not deliver grace in your writing and might fail to engage readers. With the use of an article rewriter tool, you can enhance your vocabulary.
The tool's standard approach for rewriting is to use synonyms for words to replace them, the tool can show you multiple synonyms for a word if you can memorize and learn those synonyms, you can actually use them in your content writing.
With a good vocabulary, you can write more sophisticated articles and blogs which will lead your content writing career to new rocks.
So, if you are a newbie writer and think your vocabulary is not that great, you can acquire some help from the rewriter tool.
Let's look at the demonstration of how the tool uses new synonyms to replace existing words in the source text:

4. Auto-corrects writing errors
Error-free writing is very important, if your writing does not contain any grammatical and spelling errors, this means you have written a masterpiece.
Also, to make your content writing free of grammatical errors, you must have a grip on good English grammar but, if you don't have good grammatical skills then you can take help from the rewriter tool.
The tool rewrites source text by automatically finding and fixing grammatical errors like incorrect verbs, overuse of adverbs, and more.
The tool also corrects incorrect spellings in the source text. So, if you don't know the proper use of verbs, you can observe how the tool rewrites text by fixing all the grammar.
Here's the demonstration:

5. Refine the content tone
The tone of content depends on its clarity, readability, and quality, and all these factors are important for your content writing.
If your content writing skills lack any of these factors, then you need to work on your writing. An article rewriter can help you with just that by optimizing your content.
The rewriting tools are known for improving and refining the tone of the source content, the tool does this by rewriting content in a consistent tone, avoiding repetitive words, and using a unique style of writing.
So, why not take help from an online rewriter?
Bottom Line
An AI-powered article rewriter is a great option for improving your content writing skills. In the above-discussed sections, we shared a few ways in which the tool can help you improve your content writing skills.
If you are a beginner and struggling with your writing skills, do try an online rewriter tool and focus on its work to learn ways to improve your content writing.