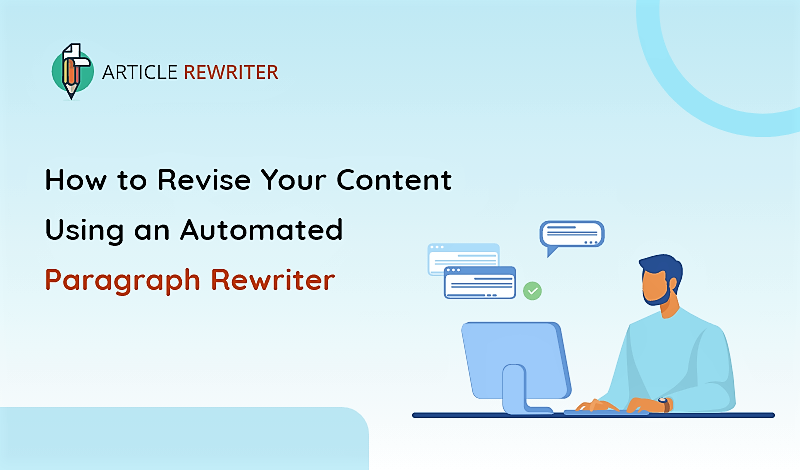 How to Revise your Content Using an Automated Paragraph Rewriter
Web content writing often implements content rewriting, editing, and updating. You may have to update the content on your dead webpage or improve the quality to generate more traffic. If a content revision is required, it's a hectic job to write unique and readable content from scratch. So how can we make this job more efficient?
Technology has drastically improved in the past years; now, various automated tools are available online to help revise content. Revising your content for better SEO can be a tedious task. But with the help of an automated paragraph rewriter, you can make your life easier. Writers can take assistance from these paraphrasing tools for writing optimized content for their websites.
But content revision is not only limited to the online domain. No matter which writing niche you belong to, content revision could be required to improve the quality of content. In this article, we will guide you on how to revise your content using an automated paragraph rewriter.
What is an Automated Paragraph Rewriter?
An automated paragraph rewriter is a tool based on Artificial Intelligence and Natural Language Processing. These tools are available as web-based tools, browser extensions, and mobile applications. Automated paragraph rewriting tools are programmed to exchange words with relevant synonyms that fit perfectly with the context of your paragraph.
Moreover, automated paragraph rewriters support a range of options to rewrite sentence formation or remove plagiarism with the help of unique vocabularies. You may find such tools online as an article rewriter or a paraphrasing tool that work under the same principles to provide writing assistance.
Advantages of Article Rewriting Tools
Before trying the tool, you may get the impression that paragraph rewriting tools may affect your productivity. But in reality, it'll make your job more efficient in the following ways.
It saves you time from manually writing the content from scratch.
Provides unique content with the least grammatical mistakes.
It helps to enhance the readability of content.
Multi-linguistic support.
Assists in maintaining the structure of the content.
Revising Content Using an Automated Paragraph Rewriter
We will discuss how writers can use automated paragraph rewriter to revise any content by following an easy step-by-step method.

1. In this first step, we'll have to input the data in the paragraph rewriter. You may find several options in this case, as you can directly type the content in the input box or choose to upload a document file containing the text. The tools support various document file formats so you won't face any incompatibilities.

2. The next step is to choose the appropriate language from the language box. You can skip this step if your content is already written in English, as most of the paragraph rewriters are set to English by default. But in many cases, you may have to opt for a different language if you're writing a blog for a different region or an essay for linguistic assignments.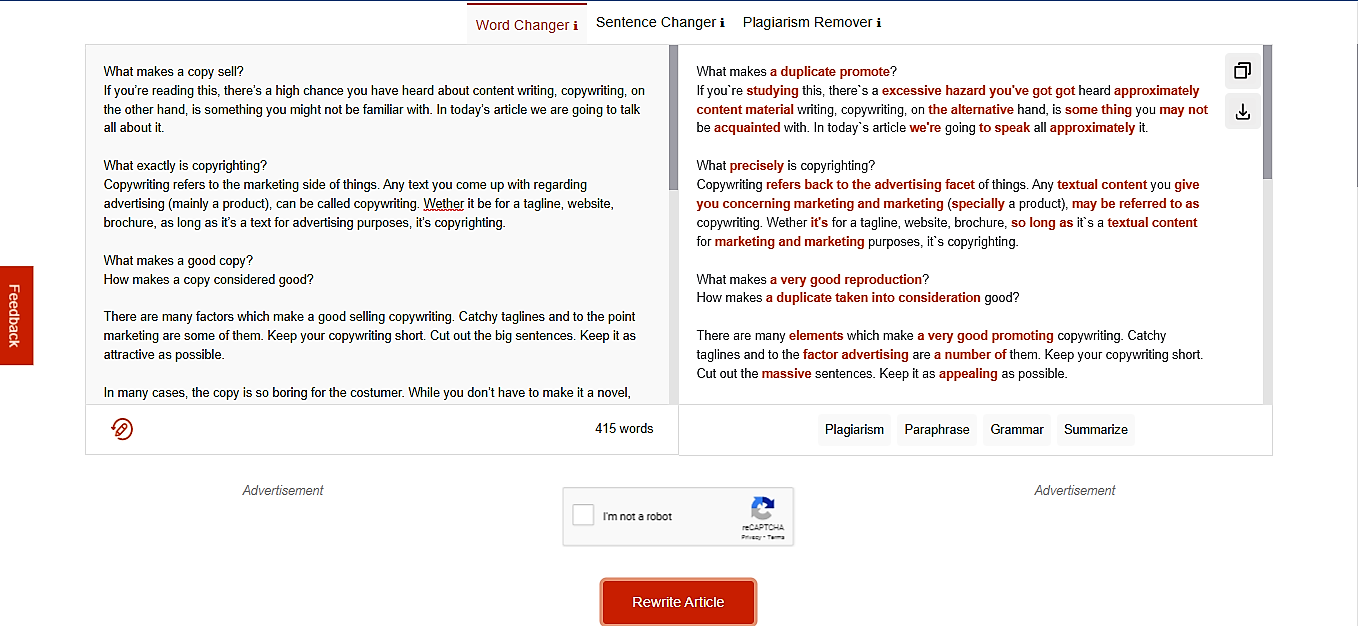 3. Once you have uploaded the content, you have to select the rewriting style that seems suitable for you. The 'Word Changer' would help exchange several words' meanings with their relevant synonyms. After selecting the mode, press the 'Rewrite Article' button, which will produce fresh content for you. The output text will be presented in the box on the right side of the interface.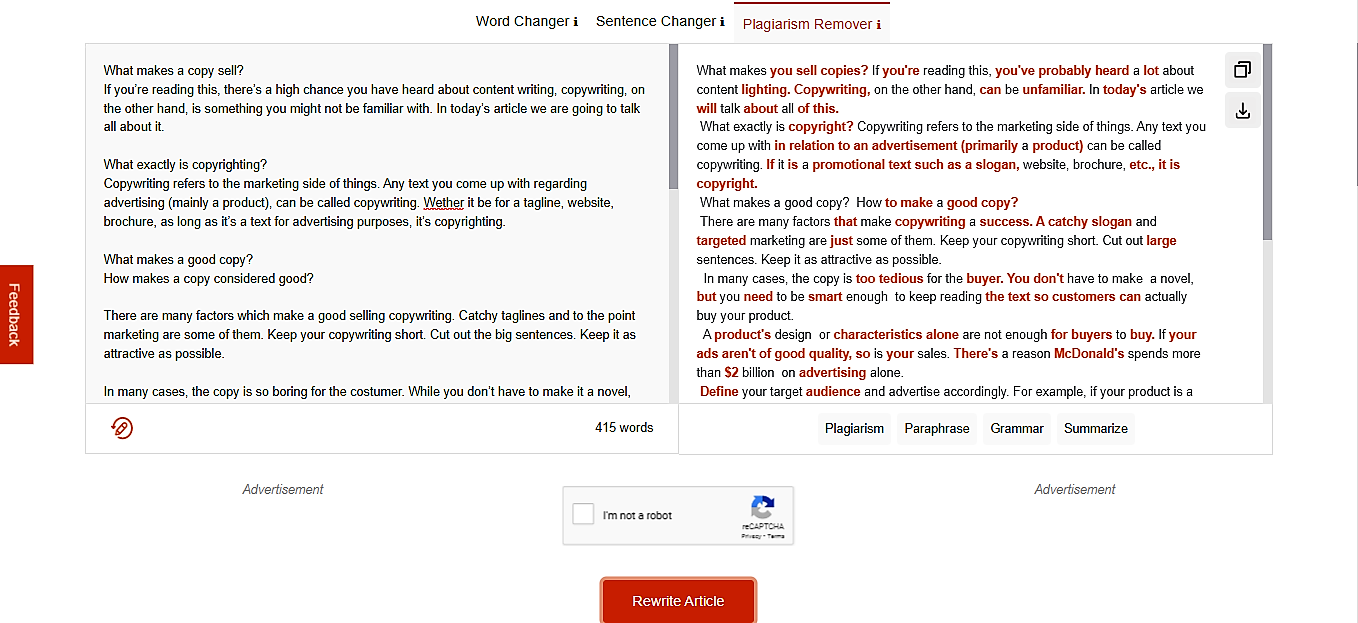 4. Now, if you're looking to rewrite a sentence for an effective essay, it's ideal to opt for an option like the sentence changer. Select the option and click the 'Rewrite Article' button to get the results instantly. Such a writing mode may help in making your content more readable.
https://www.articlerewriter.net/storage/2023/Mar/17_56.png
5. There is another mode that may help you to revise your written work for better content optimization. The plagiarism remover mode ensures the delivery of unique and error-free content that is ready to post online. Upload your article and click the 'Rewrite Article' option to get plagiarism-free content. The changes will be highlighted in the output for better understanding.

6. If unsatisfied with the results, you can click the 'Rewrite again' option. Paragraph rewriters would help you revise content as often as you want with each mode. This way, you can find the ideal piece of content that seems satisfactory.

7. Once you are given the final output in the form of rewritten text, you can choose the option to copy it from the interface directly. Or you can choose to download it in the form of a document file.
Applications of Paragraph Rewriters for Revising Content
The uses of a paragraph rewriter are not restricted to a single domain or niche. But it can be used in any domain related to writing; some of its examples are given below.
Revision and content rewriting can be effective practices for productive essay writing. In essay writing, you must deliver well-structured and unique content using the right set of terms. If you lack vocabulary knowledge, you may find it difficult to use the right words that seem fit for the context.
In this regard, the paragraph rewriter can give you a range of synonyms against each word to increase the readability of your essay. You can rewrite an essay using paragraph rewriters to improve their readability flow.
Blog writing is not just about posting the content once, and you may have to perform the editing and revision quite often to keep your head in the game. Content revision helps keep your web pages active and thus secure more chances to remain indexed in the SERPS.
Therefore, with the help of a paragraph rewriter, you can always keep posting some fresh content online to stay ahead in the competition of search engine rankings.
Search engines like Google officially consider unique content a ranking factor. Many content writers are bound to write unique content to avoid search engine penalization. Moreover, it helps keep your audience engaged as you offer something different from others.
A paragraph rewriter can help you to write well-optimized content in a matter of seconds. You can input poor-quality content online and get better results with properly structured and readable content.
Research Paper and Academic Writing
Academic writing requires the most revision and updating since a new batch is studying nearly the same coursework each year. The chances of duplication and unintentional plagiarism are higher in this case. Therefore, students are required to present authentic and unique material in their thesis.
A paragraph rewriter can help students to maintain uniqueness and grammatical quality in their assignments. Students can check grammar before submitting their academic work. Even if the supervisors or educators require students to re-submit their work, the paragraph rewriter can do the magic for them.
Conclusion
Technology has gone ahead with the successful application of various tools and technologies in almost every domain. The same support is now given in the writing domain to make things feasible for students, blog writers, researchers, and marketers.
With the help of automated paragraph rewriters, things have become more seamless and efficient for everyone. Now you can quickly revise the content and improve its quality with a few clicks.
This article featured some guidelines on how you can submit unique and readable content with the help of a paragraph rewriter. We discussed an easy step-by-step method for your better understanding. We hope this article gave you insightful information.