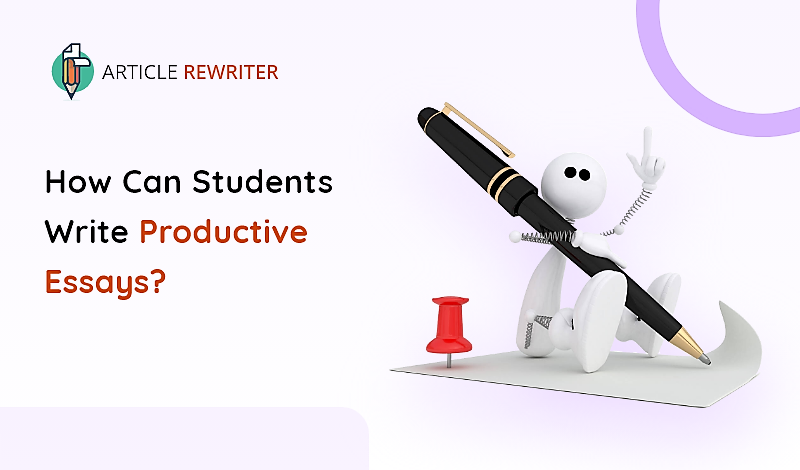 How Can Students Write Productive Essays?
Essay Writing discusses a particular subject or idea. It may be persuasive but can also be used to express personal opinions. Many students might consider essay writing a huge challenge since they don't know what to write or how to begin the essay. Those unfamiliar with the proper writing techniques like rewriting or paraphrasing may lack the productivity and readability elements in their essay.
To write a productive essay by keeping its original meaning, students can take assistance from an essay rewriting tool to feature credible information without grammatical errors. Besides effective writing, uniqueness is another factor that shouldn't be ignored in essay writing. So, there are multiple aspects you have to consider in essay writing.
In this article, we will guide you on how students can write productive essays by following some helpful tips. We will also discuss how essay rewriters can play a vital role in enhancing essay productivity.
Tips for Writing Productive Essays
Here we have discussed some useful methods you must follow for writing a productive essay.
Thoroughly Read the Guidelines
Every essay has guidelines or instructions that define an essay's rules, format, and structure. Half of the knowledge for essay writing can be extracted from the guidelines as they tell you how to write.
If there are any questions in the guidelines regarding the title of your essay, analyze them to focus on what kind of information you should feature in the content. By analyzing the questions, you can become aware of the elements required to be featured in the topic.
Guidelines or rubrics are an essential part of essay writing. You can map the whole essay and focus on your research areas to find the relevant material. Moreover, you can avoid fluff wording to refrain from featuring irrelevant pieces of information.
Perform In-depth Research
Research is another essential aspect of every type of writing. Whether you're writing a research paper or an essay, finding the relevant information to write in your content is more than half of the work. This is where your productivity in terms of research comes under the demonstration.
While performing research, you can take assistance from the rubrics. You can extract the relevant information being asked and search for those elements online. Finding all the suitable materials in the same place is nearly impossible. Plus, you have to rely on the credibility of the source and its information, so make sure to leave no stone unturned.
If you're not fond of visiting the library, Google Scholar can help you to find material for your essay with complete referencing. This platform is supported by the biggest search engine online and saves you the time to authenticate the source of information. You may also find the quotations to feature in your essay from this platform, raising support for your argument.
Finally, when you have read the guidelines and searched the relevant material for it, you can create the outline for your essay. Some students make the mistake of directly starting the essay smoothly but eventually forget or distract their flow while writing.
Therefore, students must build an outline before writing a single word for an essay. The outline can be considered as the headings or hints for your essay. You can either create the outline on the original essay space or draw one on a rough paper for changing or editing.
The standard outline consists of an introduction, body, and conclusion. The body of an essay contains the most readable material. In contrast, the essay's introduction section draws the readers toward the body. Therefore, ensure to maintain productivity and conciseness in the intro of your essay.
An outline helps you keep track of material that you will write in an essay. In this way, you won't deviate from the subject. Moreover, the outline helps prevent information repetition in an essay. Educators or evaluators may not want to appreciate reading the same type of information repeatedly.
The last step in essay writing is to proofread the content. Once you have written the essay, it's best to scan your essay multiple times thoroughly. Make sure the prepositions are placed correctly. Ensure that there are no grammatical mistakes. Check if you have set the quotations correctly.
These elements affect the structure of your content, which ultimately increases or decreases the readability of your essay. Readability shouldn't be overlooked, as it also depends on the flow of your content.
On the other hand, if your essay is full of spelling and grammatical errors, it would negatively impact your readers. It's a notion of unprofessionalism to write an essay with errors.
Above all, you must ensure that the essay is unique/plagiarism-free, as it's the most critical condition in essay writing. It is best to proofread or optimize your content before publishing. You can also take assistance from online tools to hint at or correct any mistakes in your essay.
Writing a Productive Essay with Essay Rewriter
If you lack the skills to write a productive essay in your own, you can take advantage of the features of an Essay Rewriter. Using this tool you can rewrite an essay in your own words. These tools provide various options to rewrite credible information into unique writing to feature in your essay.
This cloud-based article rewriter tool can help you write productive essays. Follow the below steps to write a quality essay with just a few clicks.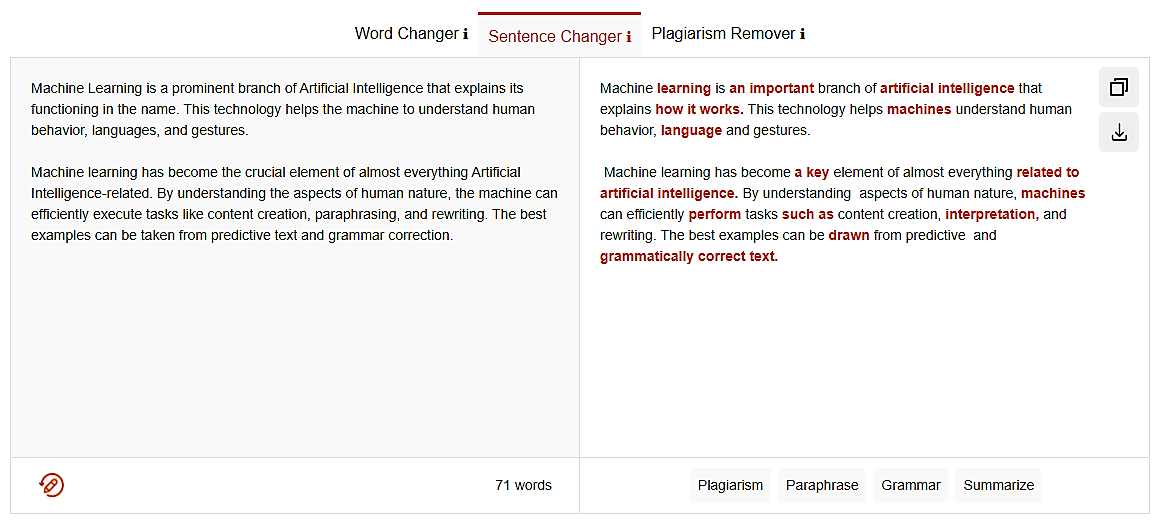 Paste the content from a credible source in the input box of your article.
Select the mode to change the word or sentence from the tool's interface.
Click the rewriting button, and the rephrased content will be generated in the output box.
The content rephrased by the tool would be unique and error-free. It also provides a grammar checker to proofread the written material for other mistakes.
Conclusion
Essay writing is the best way to attest to the productivity and creativity of students. This activity is carried out at almost every level of education to ensure they know how to search and apply information. Although due to a lack of reading and writing skills, many students find it challenging to do so.
This article elaborated on some valuable tips for writing an effective essay. We also discussed how technology could help to compile credible information in your own words to make your essay unique and informational. We hope this article brought you some valuable insights into productive essay writing.